1 of the top 10 finalists placing 5th in the Adobe + Netflix Creative Jam where 612 entries and 2,600 students and recent grads participated remotely from the US, UK and Canada to create and prototype an innovative user-friendly Netflix streaming platform desktop app in 48 hours using Adobe XD. View livestream here.

I collaborated with my teammate, Carina Umana, within the span of two days using Google Docs, Zoom and Adobe XD's new co-editing feature to create a userflow to present to a group of Netflix judges and livestream viewers.

Our project, Binge-Thru is a desktop friendly app partnered with Netflix that connects family and friends of long distance and creates a network through the movies and shows we all love with people around the world. Throughout this website, users are able to schedule their own binge parties, share their favorite moments, review and join public live streams. The visual/user interface design is as easy flowing and accessible to the users as possible so that they can enjoy their experience and binge with us again.

We developed the concept of linking Binge-Thru to the user's personal Netflix account to have access to the user's Netflix list and personalizations, and to save the user the hassle of having to search up and create essentially a duplicate Netflix profile.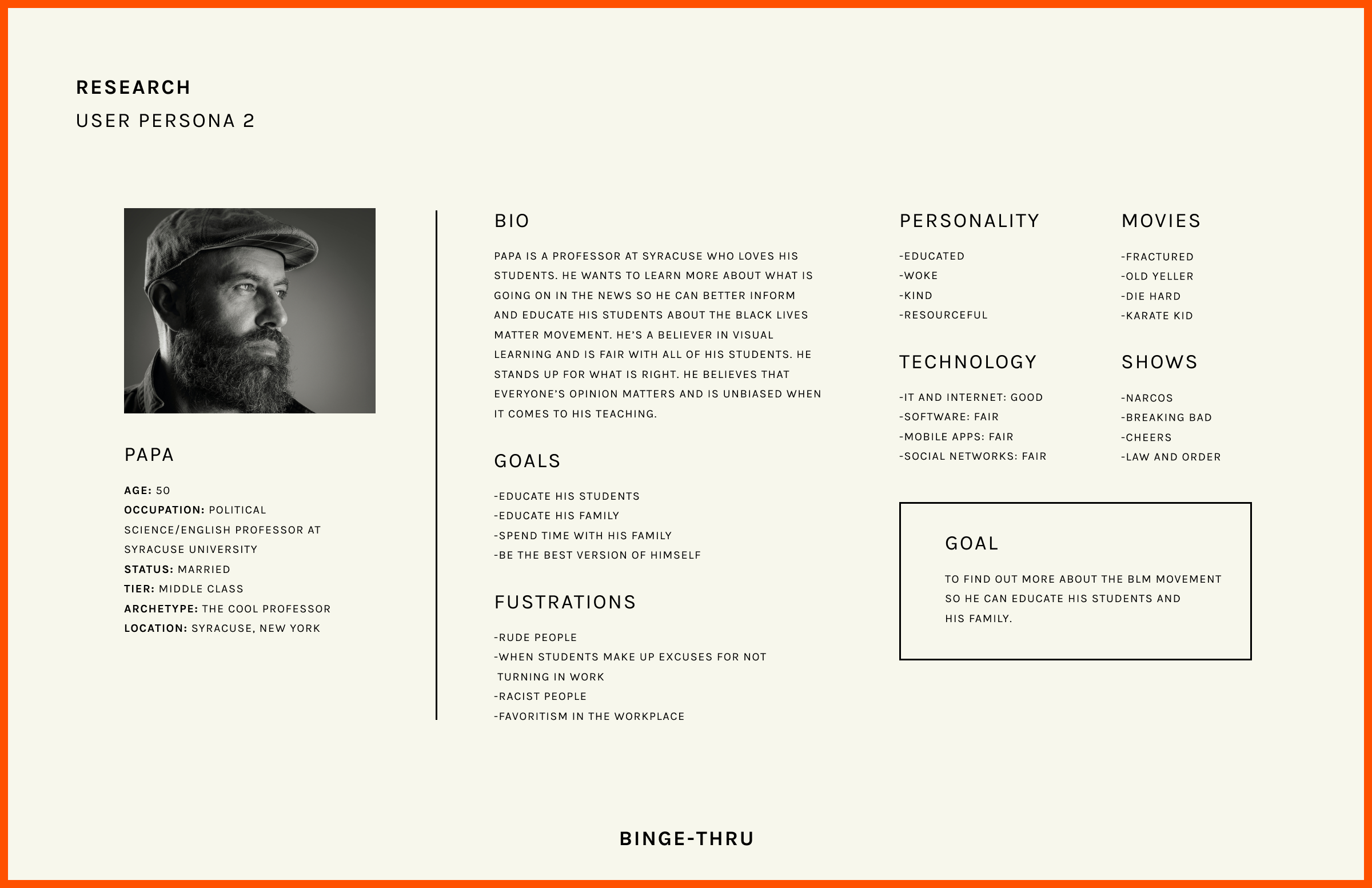 Netflix icons: Photo courtesy of Netflix, Tiger King, Narcos:Mexico, Stranger Things, Lovebirds, Coffee with Kareem, Dear White People, Remasterd: Who Shot the Sheriff, Money Heist, Space Force, 13th, Fractured, Set it Up, #Blackaf, Elite, When They See Us, Barry, Birdbox, Homecoming: Photo courtesy of Netflix, Clueless: Photo courtesy of Paramount, Back to the Future 2: Photo courtesy of The Kobal Collection, Dwight Schrute, Michael Scoot on roof in The Office: Photo courtesy of NBC, Avatar The Last Airbender: Photo Courtesy of Nickelodeon Animation Studios, Grey's Anatomy: Photo courtesy of Scott Garfield/ABC,West Side Story's Maria and Tony Balcony Scene: Photo courtesy of UNITED ARTISTS, West Side Story's Rita Moreno and others dancing: Photo courtesy of Silver Screen Collection/Getty Images, West Side Story's Sharks Dancing: Photo courtesy of UNITED ARTISTS, Moonlight: Photo courtesy of Plan B Entertainment, Legend: Photo Courtesy of Paul Kerry, Drive: Photo Courtesy of Newton Thomas Sigel, Malcolm X: Photo Courtesy of Marc Phillips, That 70s Show: Photo Courtesy of Matt Winston, Gossip Girl: Photo Courtesy of Jason Heymann